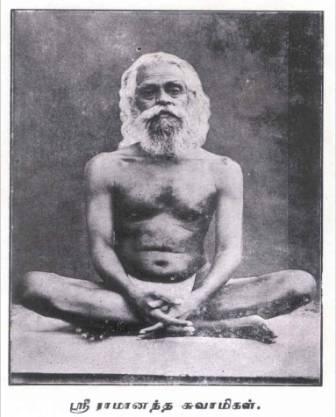 H.H. Ramanada Saraswati Swaminah
| | | |
| --- | --- | --- |
| Born on | | 14.Dec.1867 |
| Poorvashrama Name | | |
| Sannyasa | | July 1922 |
| Sannyasa Yoga Patta | | SRI RAMANANDA SARASWATHI SWAMINAH |
| Samadhi | | 25.12.1936 |
| Place | | Kolli Hills (near Viswambal Samudram) |
Sri G Ramachandra Iyer was a well known advocate practicing in Tirunelveli in Tamil Nadu, India. He was known for his forthright strong views upholding Hindu Dharmas (Sanatana and Varnasharma Dharmas). He had participated in many conferences of sanatanists and opposed strongly legislations which were brought in by political bodies to amend the original Hindu Law based on Smritis of various Rishis.
He was exceptionally devoted to H.H. Sachidananda Siva Abhinava Narasimha Bharati Swaminah, the 33rd Pontiff of Sri Sarada Peetam, Sringeri (1879-1912) and his successor H.H. Chandrasekhara Bharathi Swaminah (1912-1954). He developed deep vairagya and took Sannyasa in Sringeri in July 1922, in the holy presence of Jagadguru H.H. Chandrasekhara Bharathi Swaminah and was initiated into by Sri Kamalananda Narasima Bharati Swaminah of Nelamau Mutt. He became a Parivrajaka in accordance with the shastric tenets and moved about on foot along the banks of River Cauveri in the erstwhile bigger Trichy District. At last, he climbed the Kolli Hills and led a lonely life in the dense forest in deep meditation till his Kaivalyam on 25th Dec. 1936.
His Adhistanam is on the river bank in Viswambal Samudram village and another Mrithika Adhistanam (near his Guru Sri Kalamanandar's adhistanam) is in Mahadanapuram, Trichy Dist. Regular poojas are being performed by the devotees from in and around Mahadhanapuram at the adishtanam. Every year, Aradhanai is being conducted at the adhistanam in Mahadanapuram during the Tamil Month of Karthigai, Trieyodasi (Nov-Dec). Daily poojas and annual aradhana are also being conducted by the Devotees at Viswambal Samudram village.
Some of his writings and publication are:
| | | | | |
| --- | --- | --- | --- | --- |
| | | | | |
| 1 | Hindu Ideal in English | Essay on Sanatana Hindu Dharma and thoughts on Advaita Philosophy | | |
| 2 | Dharma Vimarsanam in Tamil | Essay on Sanatana Hindu Dharma and thoughts on Advaita Philosophy | | |
| 3 | Mukthi Marganu Chintanam in Sanskrit | | | |
| 4 | Paramahamsa Dharma Nirnaya in Sanskrit | Guidelines for those who take up sannyasa in the prescribed Manner | | |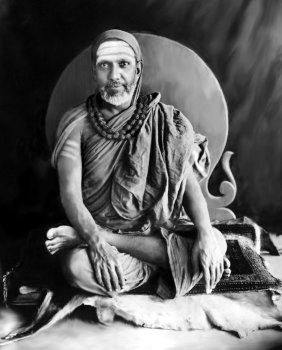 H.H. Sachidananda Siva Abhinava Narasimha Bharati Swaminah, 33rd Pontiff of Sri Sarada Peetam, Sringeri