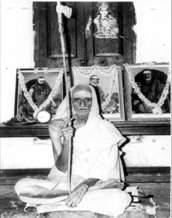 H.H. Gnanananda Bharathi Swaminah
Sri R Krishnaswamy Aiyer (Sri Gnanananda Bharathi Swamigal : Sanyasa Yoga Patta), was born to the pious Brahmin couple, Smt Janaki Ammal and Sri G Ramachandra Aiyer on 26 Oct 1889. After finishing his early education at Tirunelveli, he completed his BA and MA in Sanskrit from Presidency College, Chennai as well as Bar at Law (BL).
He was an Advocate by profession and practiced at Tirunelveli District court. He was completely devoted to Sanathana Dharma and was an ardent follower of Advaitha Philosophy propounded by Adi Sankaracharya. His devotion bestowed upon him the grace of three successive Jagadgurus of Sringeri Mutt i.e., H.H. Sachidananda Sivabhinava Narasimha Bharati Swamigal, H.H. Chandrasekhara Bharathi Swamigal and H.H. Abhinava Vidya Theertha Swamigal.
A prolific writer, he has many books and articles to his credit, written in English, Tamil and Sanskrit and they were published with the blessings of the Mahasannidhanams of Sri Sringeri Sarada Peetam. The books were written with the sole aim of furthering and propagating the cause of Sanathana Dharma, Advaitha Philosophy, the Sringeri Sarada Peetham's greatness and the teachings of Their Holiness, the Jagadgurus of Sringeri. The books have been written in lucid language so that they can be easily understood by one and all. Some of his books have been reprinted many times and some are under reprint.
Sri R Krishnaswamy Aiyer took sanyasa, as per the path specified in Sanathana Dharma, (following the footsteps of his father, who had taken sanyasa with yoga patta of Sri Ramananda Saraswati) on 3rd November 1966 on the banks of River Yamuna in Brindhavan in the august presence of H.H. Abhinava Vidya Theertha Swamigal, through a sanyasi selected by His Holiness and was subsequently known as Sri Gnanananda Bharathi Swamigal.
Sri Gnanananda Bharathi Swamigal was blessed in person on 1st February 1975 by H.H. Abhinava Vidya Theertha Swamigal and the then newly ordained H.H. Bharathi Theertha Swamigal.
Sri Gnanananda Bharathi Swamigal attained Samadhi on 9th April 1975. His Adhistanam is at Mannadimangalam, a village near Sholavandan Railway Station, Madurai Dist. His Aradhana is conducted every year at the Adhistanam during the Tamil month of Panguni, Krishna Triyodasi (March-April).
"Sri Gnanananda Bharathi Grantha Prakasana Samithi" (a registered Trust) has been revived to perpetuate his memory, arrange daily pooja at the Adhistanam, to conduct annual Aradhana and to take steps to republish his works from time to time.
Book Release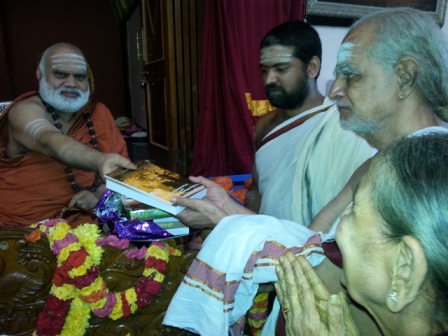 H.H Mahasannidhanam Jagadguru Bharathi Thirtha Swamiji along with H.H Sannidhanam Jagadguru Vidhushekhara Bharati Swamiji releasing republished books of H.H Gnanananda Bharathi Swaminah